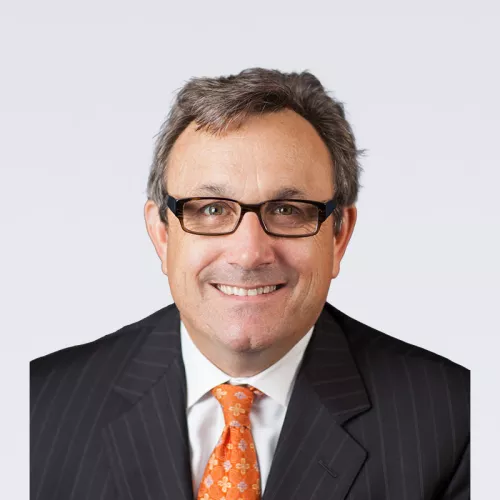 Intro
Andrew served as Hanson Bridgett's Managing Partner for nearly 20 years. Under Andrew's leadership, Hanson Bridgett grew to be in the top 10 firms in Northern California and expanded its operations to Sacramento, Los Angeles, and the East Bay. Andrew was a key driver of the firm's nationally recognized DEIJ initiatives and as a thoughtful leader in sustainable business practices.
Andrew is a market leading, Chambers listed trial lawyer, with particular expertise in construction and real estate. He has acted as lead trial counsel on many large, complex matters. Andrew also assists firm clients with significant strategic engagements, including those that have important political or reputational components.
Andrew is a part of the firm's land use and government relations practice and has personal relationships with local, state and federal elected officials at the highest levels.
Education
J.D.
University of California, Hastings College of the Law
( 1991 )
B.A.
San Francisco State University
( 1988 )
Obtained a jury verdict of $156 million in a fraud case in federal court for McWhinney relating to a real estate partnership dispute.
Obtained $19 million arbitration award for Deacon Builders and defeated all owner's claims for a 300 unit apartment building in Silicon Valley.
Represented geotechnical engineer in the Millennium Tower litigation. Acts as outside General Counsel for Terra Insurance.
Represented the America's Cup Event Authority as outside general Counsel in matters relating to the implementation of the America's Cup event in San Francisco.
Advised Prologis as outside litigation counsel with nationwide responsibility for overseeing its construction, real estate, and environmental litigation projects, including a $90 million affirmative claim for infrastructure reimbursement under a development and owner participation agreement.
Defeated a $300 million claim by Cisco System against Prologis in a four month arbitration involving claims for the proposed development of the A's Stadium in Fremont.
Represented Kiewit in a successful two month eight figure arbitration against the City of Redding regarding differing site conditions encountered during the construction of a bridge across the Sacramento River.
Defended an eight week, eight figure claim adjudicated at court in San Bernardino against Prologis involving disputed water rights.
Prosecuted a $90 million construction claim on behalf of the Intercontinental Hotel in a jury trial in San Francisco. The case settled to the client's extreme satisfaction after two weeks in trial.
Represented major municipality in a series of construction and constitutional claims seeking in excess of $81 million in damages, including a three week jury trial in federal court.
Representation of a regional irrigation district with defective construction of a water treatment plant requiring in excess of $30 million in corrective work.
Counseled world class music conservatory in connection with contractor claims for additional costs relating to the construction of its new education and performance facility.
Advised a major university against a contractor's claim for additional costs arising from MEP conflicts at a research and teaching facility.
Represented national real estate developer in connection with the remediation of defective infrastructure improvements in San Francisco.
Represented West Coast developer of residential towers on the first LEED® Certified condominium project in San Francisco in connection with claims for contractor delays and insurance coverage.
Provided counsel to major university in connection with construction of a world class hospital and research facility in San Francisco.
Lead representation for international defense contractor in connection with claims relating to the Iraq and Afghanistan war efforts and the federal government project to remediate waste and debris in New Orleans following hurricane Katrina.
Marin Agricultural Land Trust, Board of Directors
Marin Community Foundation, Buck Family Fund Board of Trustees
Leadership Council on Legal Diversity, Board of Directors
Bar Association of San Francisco
Marin County Bar Association
Legal Aid of Marin, Past President
Bay Area Council: Executive Committee, Government Relations Committee, and China Committee Member
North Bay Leadership Council, Executive Committee
"Deacon Builders, LLC's $19 Million Arbitration Award," Global Legal Chronicle (July 2021)
"How Hanson Bridgett Took A $156M Case Over The Finish Line," Law360 (June 2021)
"Law Firm Diversity Roundtable," Law Journal Newsletters (August 2019)
"Calif. Housing Industry Watching Gov.'s $750M Incentive Plan," Law360 (March 2019)
"New Year's Resolution for 2016...Leaders Say: Embrace Change, Enhance Diversity, Write (real) Letters & Help Others," Of Counsel (January 2016)
"Hanson Bridgett: Official Outside Counsel to the America's Cup," San Francisco Attorney (Summer 2012)
"Marin Resident Helps Lead Campaign for Constitutional Convention," Marin Independent Journal (September 2009)
"Giacomini Brings an Irreverent Style to Firm," Daily Journal (March 2009) 
"Managing Partner A-List," Daily Journal (March 2009) 
"Reformers Debate Rewriting California Constitution," Associated Press (February 2009)
"Hanson Bridgett Woos Talent Without Offering Top Dollar," San Francisco Daily Journal (September 2007) 
"Flatbeds Full for Food From the Bar," San Francisco Attorney (Spring-Summer 2005) 
"The Search for Community," Marin County Annual Report (2002) 
"Giacomini, 37, picked to lead legal team", Marin Independent Journal (April 2000) 
"Marin Lawyers win $3 Million jury verdict", Marin Independent Journal (October 1995)
Chambers and Partners (2022)
Top 50 Lawyers In America (2022)
Super Lawyers, Construction Litigation (2006–2017, 2022)
California Lawyers Association, Wiley W. Manuel Pro Bono Legal Services Award (2021)
Elevation Award, The Bay Area CREW Chapters and The Registry's ELEVATE Awards (2020)
NBLC Leaders of the North Bay Award, Community Building (2016)
BTI Client Service All-Star MVP (2014)
Heart of Marin Awards for Excellence in Board Leadership, nominee (2013)
Legal Aid of Marin, Marin Justice League Hall of Fame (2011)
Northern California, Super Lawyers (2006–2011)
"Corporate Leaders – Walking The Talk," co-speaker, Gender Leadership Group BetterMan Conference: Empowered Leadership through Gender Partnership (April 2016)
"Globalaw Women's Lawyer Group," co-speaker, Globalaw Americas Regional Meeting (March 2016)
"Constitutional Convention Process: Presentation & Discussion," The California Constitutional Convention Summit (February 2009)