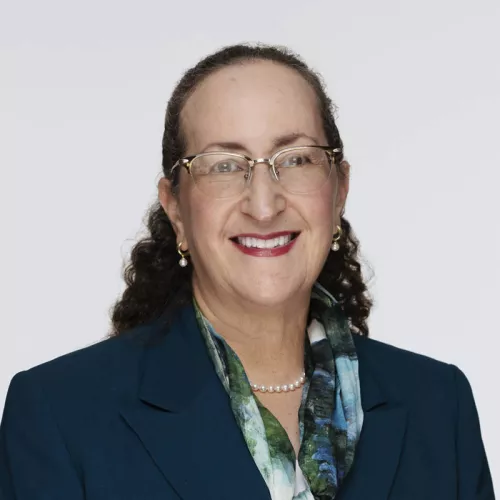 Intro
Nancy has specialized in commercial and real estate litigation for more than 30 years. She counsels clients on rights and remedies, and handles litigation to recover money or regain possession of property. She represents landlords in tenant bankruptcies nationwide, and has particular expertise using provisional remedies to get faster results for her clients.
Nancy is a respected author and speaker in her areas of practice. For more than 15 years, she has authored the bankruptcy chapter in the California Landlord-Tenant Practice treatise published by California Continuing Education of the Bar, and in 2016 she joined CEB's Real Property Advisory Committee. She has written and spoken on a variety of topics in business and lease litigation, including creative use of creditors' remedies, commercial lease rights and litigation strategy, landlord rights in tenant bankruptcies, and provisional remedies.
Nancy is also a dedicated advocate for women's rights. She is a life member and past president of Queen's Bench, one of the oldest women's bar associations in the country, and went on to become president of the National Conference of Women's Bar Associations (NCWBA). As past president of the NCWBA, she became active in international advocacy for women's rights. She was an invited speaker at international women's conferences in Nigeria and Switzerland, and has discussed women's rights and the legal system with lawyers, judges, and activists from Islamic countries, Taiwan, the Middle East, Africa, China, and Bulgaria, at multiple meetings hosted by the International Diplomacy Council over the past several years.
In 2013, after years of planning, Nancy founded the International Action Network for Gender Equity & Law (IANGEL), to harness the power of volunteer legal resources and to connect it to the cause of gender equality locally, nationally, and internationally. She now leads IANGEL as its president, and Hanson Bridgett proudly supports its important work for justice and human rights around the world. See iangel.org.
Education
J.D.
Order of the Coif
University of California, Davis School of Law
( 1983 )
B.A.
with honors
University of California, Santa Cruz
( 1980 )
Admissions and Courts
California
Supreme Court of the United States
U.S. Court of Appeals for the Ninth Circuit
Role

Creditor's Rights & Bankruptcy Practice Leader
Successfully handled hundreds of commercial lease disputes, resulting in millions of dollars collected for shopping center owners and managers
Collected millions of dollars for a major credit insurance client, handling multiple claims involving international collection issues and strategy
Protected and advanced rights of real estate owners on lease and claim issues in retail tenant bankruptcies throughout California and nationwide
Prepared and enforced first amendment access rules and regulations for major shopping center owners
California CEB Real Property Advisory Committee
Queen's Bench Bar Association (President, 1996)
National Conference of Women's Bar Associations (President 2001-2002)
California Women Lawyers (International Envoy, 2004)
American Bar Association, Litigation and Law Practice Management
International Council of Shopping Centers
Commercial Real Estate Women
Bay Area Bankruptcy Forum
"Howrey Has No Dibs On Ex-Partners' Profits, 9th Circ. Says," Law360 (February 28, 2020)
"Who is CWL?" Profile in California Women Lawyers Newsletter (December 2015)
"Alumni Profile: Nancy Newman '83," King Hall Counselor, University of California, Davis, School of Law (2015)
Martindale-Hubbell AV® Preeminent™ (2005-2022)
California Lawyers Association, Wiley W. Manuel Pro Bono Legal Services Award (2019–2021)
Boalt Hall Women's Association, inaugural Women Advancing the Law Practitioner Award (2015)
Top Rated Lawyers™ in Real Estate Law; Martindale-Hubbell™ (2013)
Bar Association of San Francisco, Outstanding Service Award
"Tenant Bankruptcies: Relief from Stay, Rent Claims, and Lease Issues," Chapter 14 of California Landlord Tenant Practice (Cont.Ed.Bar 2d ed. 2015)
California Real Estate Bankruptcies: Law and Litigation, contributing author (Cont.Ed.Bar 2010)
"You Can Change the World," Report on International Diplomacy Council Meeting, Queen's Bench Newsletter (May 2003)
"Women, Lawyers, and Mammograms: a Perspective on Misdirected Advocacy," Women Lawyers Journal, Vol. 88 No. 3 (Spring 2003)
"Tenant Bankruptcies: What Landlord Lawyers Need to Know," Case 'N Point Newsletter, v.4 (Cont.Ed.Bar 2003)
"Getting Results in Commercial Litigation," CEB, Civil Litigation Reporter (1994)
"The Law of Reproductive Rights," project coordinator, editor, and contributing author, California Women Lawyers (1993)
"Disclosures to Prospective Tenants," co-author, Commercial Leasing Law & Strategy (September 1992)
"Pro Bono Power: Using Global Legal Networks to Advance Equality," panelist at NGO parallel event presented by IANGEL, 65th Meeting of the UN Commission on the Status of Women (March 2021)
Panelist, ICSC Legal Forum Bankruptcy Webinar (October 2020)
"Gone But Not Forgiven: Lease Exit Strategies in the Era of COVID-19," Peer to Peer Workshop Leader, 2020 Virtual ICSC U.S. Law Conference (October 2020)
"Beijing+25: Forging the Path to Gender Equity," panelist re UN CSW64, joint IANGEL/Women's Intercultural Network program (February 2020)
"Powering Global Change: How pro bono partnerships advance gender equality," speaker, The Bar Association of San Francisco (April 2019)
"The Year of Public Services for Gender Equality," panelist re UNCSW 63, joint IANGEL/ Women's Intercultural Network program (February 2019)
"Using Volunteer Lawyers to Improve the Lives of Rural Women," panelist at NGO parallel event, 62nd Meeting of UN Commission on Status of Women, New York (March 2018)
"The UN Year of the Rural Woman," panelist, UNCSW 62, joint IANGEL/ Women's Intercultural Network program (February 2018)
"A Perl of Wisdom – New Analysis on the Automatic Stay and Terminated Tenancies," Roundtable Leader, ICSC U.S. Law Conference (October 2017)
"Bring the Global Local," panelist reporting on UNCSW 61, joint IANGEL/ Women's Intercultural Network program (May 2017)
"Pro Bono Power: Leveraging Legal Resources to Advance Gender Equality," panelist at NGO parallel event, 61st Meeting of UN Commission on Status of Women, New York (March 2017)
"Perspectives on the Struggle for Gender Equality and Human Rights," guest speaker, Indiana University School of Global & International Studies (March 2017)
"Pits in the Pruneyard: Modern Strategies for Handling Protests and Petitioners," speaker and seminar coordinator, ICSC U.S. Law Conference (October 2016)
"The Law is Hereby Struck Down: An Update on the Fight Against Child Marriage in Africa," moderator of panel discussion produced by IANGEL and the Global Fund for Women (March 2016)
"Defaults and Remedies: When you Least Expect It, You Should have Planned for it Anyway," panelist and general session coordinator, ICSC U.S. Law Conference (October 2015)
"To Breach or Not to Breach: Modern Dilemmas in Defaults and Remedies," peer to peer workshop leader, ICSC U.S. Law Conference (October 2014)
"Effective Communication and Networking - Workshop," Faculty Member, 2014 Women in Law Institute (February 2014)
"International Women's Rights: An Informative Discussion of the Challenges Women Face in their Quest for Equal Rights Around the World," moderator, Queen's Bench Education Committee Presentation (April 2013)
"Successful Strategies for Handling Defaults, Bankruptcy, and Access Issues in an Era of Limited Court Resources," panelist, ICSC California Retail Symposium (February 2013)
"Defaults, Remedies, and Bankruptcy: When the reduction doesn't happen or doesn't work... What then?," panelist, ICSC California Retail Symposium (February 2012)
"Before Bankruptcy and Beyond: Strategies for Troubled Times," client presentation (March 2009)
"Claim Recovery and US Bankruptcy Law: What You Need to Know," Berne Union Annual Meeting (October 2008)
"Recession Fallout: Commercial Lease Issues in a Troubled Economy," Bar Association of San Francisco (July 2008)
"Sow's Ear or Silk Purse: Challenges and Opportunities in Tenant Bankruptcies," seminar leader and panelist, ICSC U.S. Law Conference (January 2008)
"What Works for Business Development: Tips, Techniques and Pitfalls from the Masters," Queen's Bench (September 2007)
"Best Practices for Women's Bar Associations," panelist, Women's Bar Leader Summit, National Conference of Women's Bar Associations (August 2007)
"Winning Strategies for Handling Tenant Defaults and Tenant Bankruptcies: What Landlords Need To Know," Lorman Educational Services (October 2005)
"Attach for Success: Provisional Remedies for Creditors," Barristers Club of San Francisco (October 2004)
"Organizing for Women's Empowerment," featured guest speaker, International Conference on the African Woman & Gender Development, Abuja, Nigeria (April 2004)
"Tenant Defaults: Warning Signs and Winning Strategies," panelist, San Francisco BOMA (2003)
"Tenant Bankruptcies: Scream or Die," program chair and panelist, National Network of Commercial Real Estate Women (2003)
"Building Our Future," co-chair and panelist, Women's Bar Leader Summit National Conference of Women's Bar Associations (2003)
"So You've Got a Judgment, Now What?" Barristers Club of San Francisco (2003)
"Leading Change through the Law," Women's International Networking Conference, Lausanne, Switzerland (2002)
"Handling Tenant Defaults: How to Use Counsel Effectively to Accomplish Your Objectives," Client Regional Meeting (2002)
"Changing the Face of Justice," panelist, Queen's Bench and National Association of Women Judges (2002)
"Hot Legal Topics in Property Management," panelist, International Council of Shopping Centers (1994)
"Law & Motion Skills Workshop," faculty, California Continuing Education of the Bar (1986 - 1991)