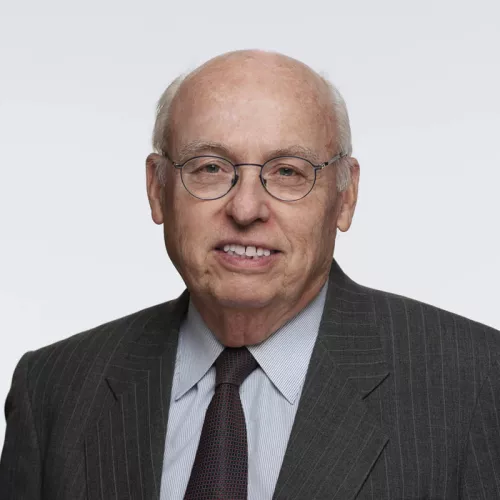 Intro
Allan Jergesen is a senior partner of the firm involved actively in senior housing and long-term care. He has provided advice and representation concerning the development of new retirement facilities, focusing on such matters as business structure, corporate formation, licensing, for-profit and nonprofit tax questions, real estate, and the drafting of resident agreements. In addition, he has given extensive advice concerning the legal aspects of day-to-day operations, including corporate issues, managed care questions, licensing citations, medical treatment questions, residents' rights, the privacy of resident health and personal information, contractual disputes, and governmental relations. Allan brings his extensive experience in the area of health and hospital law to bear on issues involving retirement facilities. He has assisted in the drafting of laws governing continuing care, assisted living, and nursing services.
Allan is a member of the Legal Section of LeadingAge, the national association for nonprofit providers of senior housing and long-term care. He also provides legal advice to its state affiliate, LeadingAge California, where he is a member of the public policy committee. He has participated as a speaker at seminars and educational sessions for these organizations, as well as at conferences sponsored by the California Assisted Living Association, the California Association of Health Facilities, and the California Association for Adult Day Services. Allan is general counsel to the California Health Information Association and is considered an expert on privacy issues as they relate to providers of health care and of senior housing and long-term care.
Areas of Focus
Education
Ph.D.
University of Oxford
( 1977 )
J.D.
Harvard Law School
( 1972 )
A.B.
magna cum laude
Harvard College
( 1969 )
Advise clients regarding obligation under HIPAA and California law to report possible health information security breach.
American Health Lawyers Association
California Society for Healthcare Attorneys
LeadingAge, Legal Committee
American Health Lawyers Association
California Society for Healthcare Attorneys
LeadingAge, Legal Committee
American Health Lawyers Association, Member
California Society for Healthcare Attorneys, Member
LeadingAge, Legal Committee
Super Lawyers, Health Care (2010 - 2012, 2022)
Bill Brockett Pro Bono Attorney of the Year Award, Swords to Plowshares (2015)
"Collecting Consumer Information: What You Can Learn From California's Privacy Protection Initiatives," American Seniors Housing Association (February 2022)
"Consent Issues in Dementia Care," California Assisted Living Association News & Views (Fall 2016)
"The Model Privacy Policies and Procedures for Resident Information," California Assisted Living Association (March 2016)
"Clinical Trial Agreements at Community Hospitals," Health Care Law Alert (July 2012)
"Conscious Dying – Candid Conversations, Critical Considerations," 2016 CALA Spring Conference (June 2016)
"What the Medical Staff Services Professional Needs to Know About Allied Health Professionals," CAMSS Legal and Regulatory Seminar (September 2015)
"Ask the Attorney – What Legal Questions Are Bothering You?" and "Mobile Devices, Texting, and Social Media at Retirement Communities: What are the Legal Issues," LeadingAge California Annual Conference (May 2014)