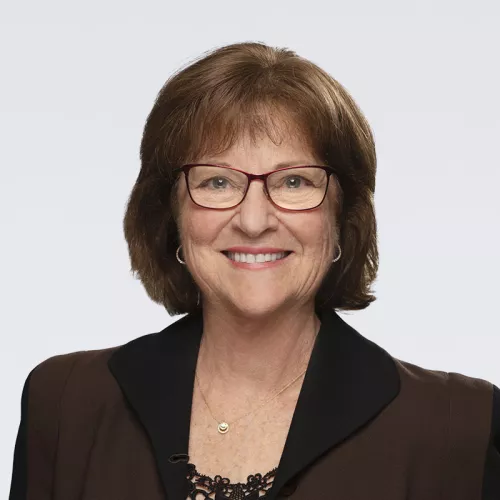 Intro
Joan has practiced in the field of municipal law for 45 years with Hanson Bridgett. She is the General Counsel for the San Mateo County Transit District and the San Mateo County Transportation Authority. Since 1989, she has served as the City Attorney for the City of Millbrae. In addition, she is General Counsel for the Peninsula Traffic Congestion Relief Alliance, a transportation demand management joint powers authority of 17 cities and the County of San Mateo.
She has also served a number of cities and public agencies as special counsel, including the cities of Gilroy, Windsor, San Carlos, Costa Mesa, Brentwood, San Luis Obispo, Berkeley, Redwood City and the County of San Mateo, as well as the San Mateo County Mosquito Abatement District and the Woodside School District. For years, she served as one of the Evaluators for the City of San Jose Elections Commission and in that role, she recommended disposition of complaints alleging ethical violations under the San Jose Municipal Code.
Joan understands the art of serving a client as general counsel and how local government agencies function. She is often called upon to provide guidance as special counsel when crises occur, such as employee embezzlements or the misconduct of public officials. Joan has experience in a wide spectrum of issues, including election law, federal funding requirements, environmental and real property matters, railroad operations, purchase of service and franchise agreements, public works projects, municipal finance, and government reorganization matters. She has represented both public and private entities in government proceedings involving all aspects of development, contracts, procurement, and bid protests.
Joan serves on the Board of Trustees of UC Hastings Law School and was a founding member of the San Mateo Foster City Education Foundation. She has served on the Board of Trustees of Samaritan House in San Mateo County and of the Unitarian Universalists of San Mateo.
Education
J.D.
UC Law San Francisco (Formerly UC Hastings)
( 1977 )
B.A.
Williams College and Wellesley College
( 1974 )
Role

Government Ethics Practice Leader
San Mateo County Transit District. Oversees and manages the legal services required to support this transportation mobility manager agency for San Mateo County which also serves as the Managing Agency for the Caltrain and the San Mateo County Transportation Authority, including the development of contractual arrangements for shared serves, and the implementation of major improvement projects such as the zero emission infrastructure and vehicles program, with the attendant real property acquisition, procurement, and federal and state funding issues.
City of Millbrae. As the City Attorney since 1989, she oversees all legal work for the City, including advice on developments, the drafting of ordinances and other legislation and policies, the provision of municipal services including sewer water and solid waste services, and the implementation of infrastructure projects, such as the multi-million dollar Millbrae Avenue Railroad Overpass Project which involved real property acquisition and eminent domain.
Commute.org. Provides the general counsel services to assist this agency with establishing and offering creative demand management transportation services.
City of Gilroy. Provided special counsel services to the City in addressing an appropriate response and consequences of a tragic incident involving a city official.
Bar Association of San Francisco, Member
Bay Area City Attorneys Association, former President
San Mateo County Bar Association, Government and Municipal Law Section, Member
Senator Dianne Feinstein's Judicial Advisory Committee for Northern California, Member
California Women Lawyers, Member
Queen's Bench Bar Association, Member
Super Lawyers, State, Local & Municipal; Legislative & Governmental Affairs (2006-2007)
"Declaring a State of Emergency: What You Need to Know," Government Law Alert (May 2011)
"Legal Counsel's Role in Hiring a GM," American Public Transportation Association's Legal Affairs Conference (February 2016)
"Local Government in a Brave New World: Law Enforcement, Code Enforcement, and Public Agency Liability," Municipal Law Institute Symposium (February 2015)
"Brown Act Compliance – Traps for the Unwary," Markkula Center for Applied Ethics at Santa Clara University (October 2014)
"We Had No Idea We Were Being Ripped Off! What Every Manager Needs To Know About Internal Controls and Fraud," Municipal Management Association of Northern California Region 1 Event (June 2014)
"A New Look at Design Immunity: Expanding Protections for Public Entities," International Municipal Lawyers Association Conference (October 2013)
"Municipal Restructuring: Discussion & Dialogue with Key Players," Turnaround Management Association Northern California (June 2013)
"Selecting an Operator for Caltrain: The Procurement Experience and Lessons Learned," American Public Transportation Association's Legal Affairs Conference (February 2012)
"Legal Authority of Cities to Outsource and Share Services," Hanson Bridgett Municipal Law Institute (February 2012)
"Outsourcing and Shared Services," Hanson Bridgett Public Policy Forum (January 2012)
"Navigating the Labor Laws in a Time of Scarcity: RIF, Furloughs and Other Cutbacks," Hanson Bridgett Seminar (April 2011)
"November Ballot Propositions," San Mateo County Council of Cities Meeting (August 2010)
"Contractual Risk Transfer" (August 2010)
"The Investigatory and Reporting Authority of Civil Grand Juries Acting in Their 'Watch Dog' Capacity," (June 2010)
"Controlling Public Employment Costs in Challenging Times," Hanson Bridgett Workshop on Public Employee Benefits (May 2010)
"Keeping it Legal: The What's, Why's and How's of a Utility Rate and Connection Fee Ordinance," Bay Area City Attorneys Association (March 2010)
"From Grease to Energy – The Legal Challenges with the Millbrae Co-Generation Facility," Bay Area City Attorneys Association (July 2008)
"The Governor's Commission and OPEB Strategies," Other Post-Employment Benefits (OPEB) Workshop (March 2008)
"Arranged Marriage: Water Supply and Land Use Planning," Contra Costa County City Attorneys Association (August 2007)
"The Creep of Casual Corruption" (March 2006)
"Joint Powers Authorities: Opportunities and Challenges," League of California Cities (September 2003)