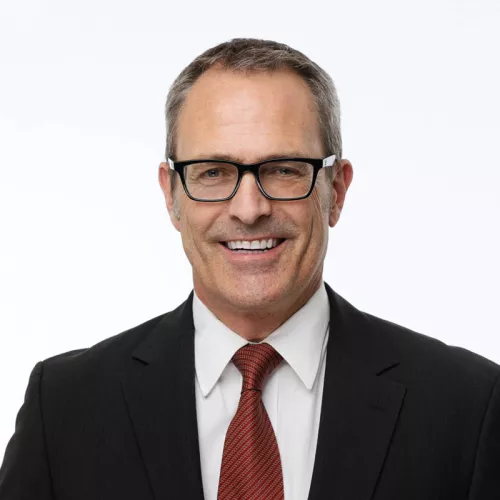 K. Bradley Rogerson
San Rafael Market Leader
Partner
Intro
Brad represents clients in a wide range of real estate and real estate finance transactions, including purchase and sale transactions, leasing, equity financing, recourse and nonrecourse lending, securitizations, private lending and investment and real estate related securities offerings.

He has extensive experience representing and advising developers, finance companies, private investors and promoters in connection with negotiating and structuring joint ventures, real estate syndications, mortgage investment pools and debt and equity restructures. Brad is a former Chair and Vice Chair of the California Business Law Section's Standing Committee on Partnerships and Limited Liability Companies and has over fifteen years of experience with the use of pass-through entities in structured real estate and project finance transactions.
Brad devotes a portion of his practice to private mortgage lending and investment and has considerable experience representing California real estate brokers, investment advisors, finance lenders, mortgage funds and other private lenders in connection with licensing requirements, regulatory compliance, audits and enforcement procedures brought by the California Bureau of Real Estate, the California Department of Business Oversight and other regulatory agencies. Brad also serves as Securities Counsel to the California Mortgage Association (CMA) advising the CMA's Board of Directors and working with CMA lobbyists with respect to securities legislation and regulations impacting the private lending industry.
Education
J.D.
cum laude
University of San Francisco School of Law
( 1996 )
B.A.
University of Colorado, Boulder
( 1991 )
Role

San Rafael Market Leader

Women's Impact Network, Member
Represented Bay Area real estate firm and fund administrator in joint venture with large Canadian real estate investment company formed to acquire portfolios of single family homes in various real estate markets throughout U.S. Representation included negotiating and documenting initial joint venture agreement and terms for initial equity investment of $15,000,000 followed by negotiation and closing of $80,000,000 structured loan transaction with multiple institutional lenders.
Represented hotel owner in asset sale and ground leasing of real property to developer of planned thirty unit apartment complex, including negotiation and documentation of asset purchase agreements, access agreement, ground lease option and ninety-nine year ground lease.
Represented local real estate investment, development and management company in connection with the syndication of 15 multi-family properties located throughout San Francisco.
Represented Bay Area developer in connection with financing of 500,000 square foot industrial building including a combination of conventional construction and permanent financing, HUD financing, private equity and new market, solar and historic rehabilitation tax credits.
Negotiated numerous industrial warehouse leases and subleases in several markets for large warehousing company.
Represented landlord in connection with negotiation and documentation of commercial lease for more than 90,000 square feet of office space located in San Francisco, California.
Represented private money lenders in more than 50 real estate related securities offerings, including the offer and sale of interests in mortgage funds, real estate funds, collateralized mortgage offerings and loan participations.
Obtained numerous offering permits from the California Department of Business Oversight (formerly the California Department of Corporations) qualifying the offer and sale of fractional loan interests and mortgage fund securities in California.
Represented private investment fund in connection with complex restructuring of $15,000,000 loan transaction including the negotiation and documentation of replacement debt obligations, equity conversions, forbearance agreements and replacement guaranty obligations.
Represented lending industry association in negotiations with Commissioner of Business Oversight to adopt a Regulation of the Commissioner expressly exempting mortgage fund managers from the investment advisor certification requirements under the California Corporate Securities Law of 1968.
Served as a Chair and Vice Chair of the California Business Law Section's Standing Committee on Partnerships and Limited Liability Companies, including direct oversight of the drafting and passage of California's Uniform Limited Partnership Act of 2008.
San Rafael Chamber of Commerce, Past Chair - Board of Directors (2022); Chair, Governmental Affairs Committee
California Bar Association Business Law Section
California Bar Association Tax Section
California Society of Certified Public Accountants (CALCPA), Associate Member
City of San Rafael Economic Development, Sub-committee member
"Statutory Referral Fee Exemption for CFL Lenders Comes with a Catch," Points of Interest (Fall 2016)
"Private Placement Advertising is Here! Was it Worth the Wait?" Points of Interest, California Mortgage Association (Fall 2013)
"Amendments to Investment Advisor Regulations Ensnare Mortgage Pool Managers," Points of Interest, California Mortgage Association (Summer 2012)
"Who's in Charge Here? Documenting Loans to Business Entities," California Mortgage Association (Spring 2005)
"To REIT or Not to REIT … is that the Question?,"presenter, Association's Fund Manager's Group (October 2018)
"Top 8 Industry Rules that Construction Lenders Should Know and Follow," moderator, California Mortgage Association's Fall Seminar (October 2018)
"Legal Updates," presenter, California Mortgage Association's Fall Seminar (October 2018)
"Mid-Year Market Review," moderator, The Registry (July 2016)
"Real Estate Law 101," Bay Area Wealth Builders Association (June 2016)
"Lessons From the Financial Crisis: Regulatory and Ethical Obligations of Private Lenders," California Mortgage Association Seminar (February 2016)
"Reporting Light – Investment Advisor Reporting Under California's Private Fund Exemption," California Mortgage Association Seminar (October 2015)
"An Update on Investment Advisor Exemption Requirements and Pending Mortgage Pool Exemption," California Mortgage Association Fall Seminar (October 2013)
"The Effect of California Investment Advisor Amendments on Mortgage Pool Managers," California Mortgage Association Spring Seminar (May 2013)
"An Overview of the Securities Laws Affecting Private Lenders," California Mortgage Association Winter Seminar (February 2013)
"Planning for the Acquisition, Operation or Disposition of Partnership Interests - Advising the Buyer or Seller on What They Need To Know," co-presenter, California CPA Education Foundation Flow Through Entities Conference (2007)