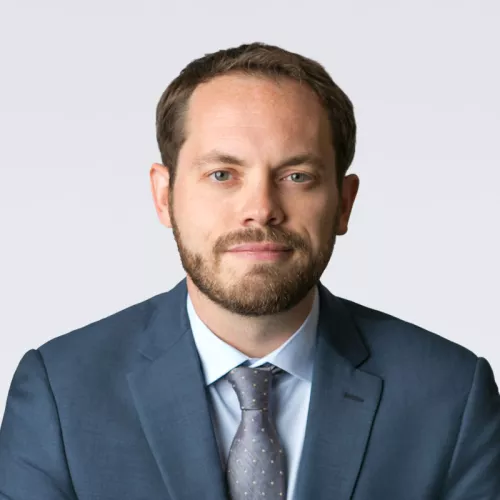 Intro
Sean G. Herman advises and litigates on behalf of clients in natural resource and land use matters. His clients include public agencies like water agencies, sanitation districts, reclamation districts, cities, and counties, as well as residential and commercial developers, private sector manufacturers, and agricultural companies. Sean's experience includes environmental laws at the Federal, State, and local levels, with a concentration on water quality, water use, water rights, endangered species, property contamination, and environmental review compliance.
Given this focus, Sean regularly advises clients on permitting and litigation under sections 401, 402, and 404 of the Clean Water Act and requirements under the State-equivalent Porter-Cologne Water Quality Control Act; implementation of the Sustainable Groundwater Management Act (SGMA); compliance with the National Environmental Policy Act (NEPA) and the State-equivalent California Environmental Quality Act (CEQA); sections 7 and 10 of the Endangered Species Act and requirements under the State-equivalent California Endangered Species Act; hazardous waste management and site investigation, remediation, and cost recovery allocation under the Resource Conservation and Recovery Act (RCRA), Comprehensive Environmental Response, Compensation, and Liability Act (CERCLA), and the State-equivalent Hazardous Substance Account Act; and supply chain compliance under Proposition 65.
Sean often speaks and writes on environmental law matters, and sits on the Environmental Law Section's executive committee for the Bar Association of San Francisco. Sean also is an adjunct professor at Golden Gate University School of Law, where he teaches administrative law and coaches its environmental law moot court team.
Education
J.D.
Rutgers University
( 2011 )
B.S.
cum laude
Boston College
( 2007 )
Admissions and Courts
California
U.S. District Court for the Northern District of California
U.S. District Court for the Central District of California
U.S. District Court for the Eastern District of California
U.S. District Court for the Southern District of California
U.S. Court of Appeals for the Ninth Circuit
New Jersey
U.S. District Court for the District of New Jersey
New York
Role

Water Practice Leader

Pro Bono Committee, Member
Water Education Foundation, William R. Gianelli Water Leaders Class
Former Chair of the Barristers Club's Environmental, Land Use, and Real Property Section for the Bar Association of San Francisco
Executive Committee for the Bar Association of San Francisco Environmental Law Section
"Court Revives California Public Beach Harassment Case," Law360 (March 2023)
"Settling Clean Water Act Citizen Suits," Storm Water Solutions (July 2022)
"Idaho Couple Returns to Supreme Court to Wage New WOTUS War," E&E News (January 2022)
"Biden Races Courts for Chance to Torpedo Trump Water Rule," E&E News (April 2021)
"What a Kavanaugh Court Means for Environmental Law," E&E News (September 2020)
"EPA Narrows States' Veto Power Over Infrastructure Projects (4)," Bloomberg Law (June 2020)
"Clean Water Act Test 'Will be Litigated for Years to Come,'" E&E News (April 2020)
"State and Local Governments Create Alliances to Fight Climate Change as Trump Administration Rolls Back Efforts to Impact Air Regulations," Environmental Business Journal (Winter 2019)
"Pruitt Tries to Bulletproof Waters Rule Repeal Before Exit," Bloomberg Environment (July 2018)
Northern California Rising Star, SuperLawyers (2023)
California Lawyers Association, Wiley W. Manuel Pro Bono Legal Services Award (2019–2022)
"Water Rights in California - Current Issues, Legal Challenges and Recent Trends," presenter, National Business Institute Seminar (January 2021)
"Coffee and Compliance: US Supreme Court's Ruling on Groundwater Discharges & Impact on Environmental Compliance Programs," panelist, Mapistry Webinar (May 2020)
"Groundwater Discharges, Waters of the US, and Clean Water Act," co-speaker, Mapistry's Pollution Prevention Summit (October 2019)
"Diversity, Inclusion and the Bottom Line: From Pledge to Profitability," co-speaker, The Bar Association of San Francisco (September 2018) 
"Environmental Law Basics: Understanding Hazardous Waste," moderator, The Bar Association of San Francisco (November 2017)
"Environmental Basics: Practicing CEQA in California," moderator, BASF Barrister's Environmental, Land Use, and Real Estate Section (November 2016)
"Game Changer: TSCA Amendments and Chemicals in the 21st Century," moderator, BASF Environmental Law Section (July 2016)
"The BP Oil Spill and Evolution of Natural Resource Damages," moderator, BASF Barrister's Environmental, Land Use, and Real Estate Section (June 2016)
"Keeping an Eye on Emerging Contaminants," speaker, Environmental and Emerging Claim Manager Association Annual Conference (April 2016)
"Prop 65 Basics: Intro to Chemical Regulation," moderator, BASF Barrister's Environmental, Land Use, and Real Estate Section (May 2015)