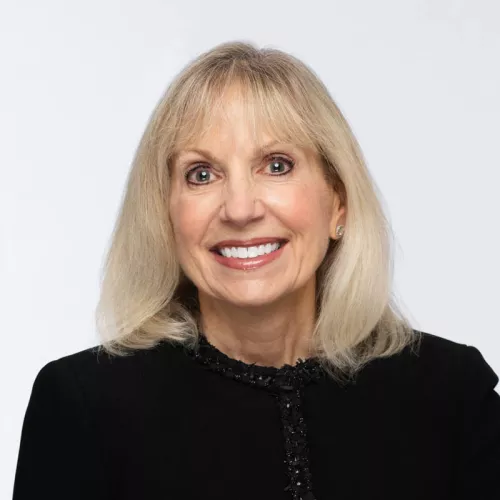 Intro
Teresa represents clients in all phases and aspects of their businesses. Teresa's expertise includes matters involving general corporate law, securities law and real property law. Teresa works with early-stage start-up companies, as well as large established companies. She assists early stage clients with formation and financing, and also provides general business counsel and guidance. She handles mergers and acquisitions, recapitalizations, credit finance, and complex business matters for a large variety of businesses.

Her corporate and securities practice includes a range of public and private equity and debt financings. Teresa represents clients in connection with the preparation and filing of periodic SEC reports and proxy statements. She also assists clients, including directors and stockholders, with sale of securities, disclosure issues, corporate governance, fiduciary duties and stock exchange rule compliance. Transactions have included private and public offerings of equity and debt securities, venture capital funding and design of complex capital structures.

She represents both publicly-traded and private companies in a wide variety of industries and markets such as technology, consumer products, professional services, food and beverage, hospitality, and healthcare. Teresa represents mission-driven entrepreneurs and businesses, as well as impact investors. She also works with a large number of closely-held and family-owned businesses. She leverages her estate planning experience by advising clients on the establishment of family limited partnerships and limited liability companies to transfer business and other assets to the next generation without interruptions in the continuity of the business. She assists clients with succession planning and business transitions.

Teresa's real property practice includes negotiation and preparation of real property leases, acquisition and sales transactions and complex real property finance matters.
Education
J.D.
University of San Francisco School of Law
( 1982 )
A.B.
University of California, Berkeley
( 1979 )
Role

Corporate Governance Practice Leader

Sustainable Business and Impact Investing Practice Group Leader

Business Disruption Strategies Practice Co-Leader

Management Committee, Member
Benefit Company Bar Association
Global Social Venture Competition, Haas School of Business, Board of Advisors (2011-Present)
Global Social Venture Competition, Global Finals Judge (2012-2013)
Pacific Community Ventures, Board of Directors (2011-Present)
Presidio Graduate School, Board of Directors (2009-2013)
Social Venture Network Board of Directors (2013-Present)
SVN Innovation Awards, Judge (2009)
The Presidio School of Management, Advisory Council (2007-2009)
Lawyers' Club of San Francisco, Scholarship Foundation Trustee (1997-2002)
Lawyers' Club of San Francisco, Board of Governors (1994-2002)
National Association of Women Business Owners, San Francisco Bay Area Chapter Legal, Counsel and Board Member (1994-2008), Secretary (2006) and Corporate Governance Committee Chair (2005)
NAWBO-SF Entrepreneurs Economic Institute, Director and Treasurer
Aragon Research, Women in Technology Award (2017)
San Francisco's Top-Rated Lawyers (2012)
Super Lawyer, Corporate Counsel Edition, Super Laywers Magazine (2008)
Northern California Super Lawyers (2006-2010)
"For Sale: Business," co-author, Daily Journal (November 2016)
"New General Solicitation Rules for Private Placements Go Into Effect," co-author, Corporate Law Alert (September 2013)
"Money from the Masses," Corporate Law Alert (July 2012)
"SEC Approves Heightened Stock Exchange Listing Standards For Reverse Merger Companies," co-author, Hanson Bridgett Business Alert (November 2011)
"Pay a LITTLE Now or a LOT Later: Strategies to Position your Transportation Company for an Eventual M&A Transaction," co-speaker, ATA Litigation Center Trucking Legal Forum (July 2023)
"B Corps and Other Purpose-Driven Companies," National Association of Women Business Owners' Panel Discussion (March 2021)
"Succession Planning for Closely Held Businesses," American Bus Association's Marketplace (January 2020)
"Due Diligence for Impact Deals," SVC Fall Conference (November 2019)
"Corporate Responsibility 2020 and Beyond – What Does it all Mean?," Citi Ventures x Social Venture Circle (October 2019)
"Protecting the Value of Your Business," American Bus Association (January 2019)
"Impact Trends and Predictions," presenter, Hanson Bridgett's Sustainable Business Leadership Forum (December 2018)
"Impact Investing Term Sheets," IC-SVN Conference, presentation and podcast (November 2018)
"Preparing Your Company for Sale and Targeting Opportunities," USLAW Conference (September 2018)
"Social Investing: Building Systems that Attract Investors," Impact Investment Forum (April 2018)
"Building Culture & Empowering Employees in Uncertain Times," Sustainable Business Leadership Forum (October 2017)
"Transfer Pricing Compliance," Cross Border Conference (September 2017)
"Impact of Women in Power and Decision-Making" moderator, Health Technology Forum at Stanford University (May 2017)
"How to Prepare for and Achieve a Successful Exit," CEO to CEO Inc. (October 2016)
"The Power of a Great Work Culture," moderator, Sustainable Business Leadership Forum (May 2016)
"Finding Good Capital and Great Investors", moderator, Sustainable Business Leadership Forum (March 2016)
"Keynote: Med Tech," co-speaker, USF Social Entrepreneurship & Innovation Conference + Startup Weekend (March 2016)
"Structured Exit Workshop," Investors' Circle (February 2016)
"Ethics and Socially Responsible Business," University of San Francisco (November 2015)
"Conscious Leadership and Social Innovation Speaker Series," University of San Francisco School of Management (November 2015)
"Leadership, Equity and Connection: Leveraging the Power of Business To Transform Lives," moderator, Sustainable Business Leadership Forum (March 2015)
"Leading with Values: Innovation, Disruption and the Sharing Economy," Sustainable Business Leadership Forum (March 2015)
"When You Take a Stand, You Drive Customer Loyalty," Sustainable Business Leadership Forum (December 2014)
"Conscious Women Leaders: Evolving Our Leadership, Our Companies, And Our World...Together," moderator, Conscious Capitalism Women's Leadership Forum (September 2014)
"Make Your Business Work for You," The Buck Institute (March 2014)
"The Link Between Impact Measurement and Fundraising Success," Sustainable Business Leadership Forum (January 2014)
"Making Your Business Work for You," Panelist (October 2013)
"How to Manage the Most Important Professional Commitment You'll Ever Make," Panel Moderator, Social Venture Network Sustainable Leadership Forum (September 2013)
"Managing Hockey-Stick Growth," Panel Moderator, Social Venture Network Sustainable Business Forum (June 2013)
Panelist, Summer Solstice for Women Investor and Entrepreneurs, Keiretsu Forum (June 2013)
"Power of Angel Investing," Panelist, Investor's Circle Venture Fair and Forum (May 2013)
"Careers in Business Law," Hastings School of Law (February 2013)
"Investor Academy on Term Sheets," Keiretsu Forum (February 2013)
"Negotiating the Investment with Social Entrepreneurs," Haas School of Business (September 2012)
"Best Practices in Impact Investing," Panel Moderator at Sustainable Business Forum (September 2012)
"Women Investors and Entrepreneurs," Panel Moderator, Keiretsu Forum Annual Summer Solstice (June 2012)
"Panel on The Art and Science of Raising Capital," Sustainable Business Forum (May 2012)
"Legal Implications for International Companies in the US and Understanding the Term Sheet and Deal Structure," Plug & Play Tech Center (March 2012)
"Careers in Business Law," University of San Francisco (March 2012)
"How to Grow Your Company," Sustainable Business Forum (March 2012)
"Legal Implications for International Companies in the US and Understanding the Term Sheet and Deal Structure," Plug and Play Tech Center (April 2012)
"Academy on Term Sheets," Plug & Play Tech Center (March 2012)
"How Will Service Providers Grow for 2012 and Beyond," ACG Annual Conference (January 2012)
"Legal Implications of Coming to Silicon Valley," Plug & Play Tech Center (January 2012)
"Creative Financing for Small Business Entrepreneurs," Panel Moderator, Hanson Bridgett (October 2011)
"Starting a U.S. Business: Raising Capital and IP Considerations," Plug & Play Tech Center (July 2011)
"Term Sheets and Convertible Notes - Structuring the Deal," Plug and Play Tech Center (March 2011)
"Careers in Business Law," UC Hastings School of Law (February 2011)
"Term Sheet Considerations: Economic, Legal & Practical," Keiretsu Forum Academy (February 2011)
"CEO Talks: Lessons Learned," Plug and Play Tech Center (November 2010)
"Legal Considerations of Raising Capital in Silicon Valley," Plug and Play Tech Center (October 2010)
"Going Public," Alliance of CEOs (May 2010)
"Basics of Business Law for Entrepreneurs," Haas Business School (November 2009)
"What's the Deal? Understanding Terms of Debt and Equity Financings," Silicon Ventures Seminar (August 2009)
"Corporate Social Responsibility," Moderator, Sustainable Business Leadership Forum (April 2009)
Investor Academy on Equity Financings, Keiretsu Forum (January 2009)
Entrepreneur Funding Boot Camp, Keiretsu (January – June 2009)
"Exploring Careers in Business/Transactional Law," UC Hastings College of the Law (October 2008)
Entrepreneur Funding Boot Camp, Keiretsu (September 2008)
"Corporate Social Responsibility and Good Corporate Governance: Is There Room for Both?," Association of Corporate Counsel-San Francisco Bay Area Chapter (April 2008)
"Careers in Business Law," Golden Gate University (February 2008)