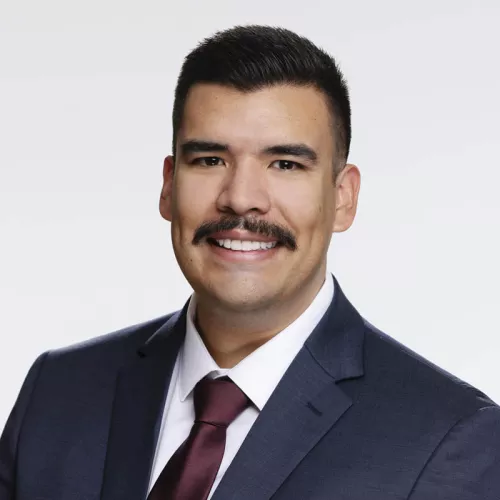 David C. Casarrubias-González
Intro
In the Appellate Practice Group, David focuses on writs, appeals, and law and motion in both state and federal court. In addition to appellate litigation, he has experience litigating a variety of business disputes and represents government agencies throughout California in complex and multi-party litigation. 
David was a prior Summer Associate at Hanson Bridgett and a judicial extern for Chief Judge Jennifer Gee in the U.S. Department of Labor's Office of Administrative Law Judges. Currently, he is on the faculty at the University of California College of the Law, San Francisco (formerly UC Hastings) where he teaches legal research and writing, and appellate advocacy courses.
Education
J.D.
cum laude
UC Law San Francisco (Formerly UC Hastings)
( 2018 )
B.A.
magna cum laude
California State University, Long Beach
( 2014 )
Academic Distinction
Governor, UC Hastings Alumni Association Board of Governors
Member, UC Hastings Honor Society
Co-Chair, UC Hastings Moot Court Board (2017-2018)
Admissions and Courts
California
U.S. Court of Appeals for the Ninth Circuit
U.S. Court of Appeals for the Tenth Circuit
U.S. District Court for the Northern District of California
U.S. District Court for the Eastern District of California
Supreme Court of the United States
Role

Pro Bono Committee, Member

Recruiting Committee, Member
Immigration Law. Secured a published Ninth Circuit victory on behalf of a gay Nigerian man seeking asylum and protection under the Convention Against Torture in the United States after he was discovered being intimate with his boyfriend in a Nigerian hotel and was threatened with death as a result of that discovery.
Cannabis Law. Successfully defended a cannabis distribution company in a jury trial against a cannabis cultivator alleging distributor breached an implied-in-fact contract when distributor attempted to return cannabis and cannabis products that would not sell.
Anti-SLAPP. Assisted with drafting winning appellate brief defending trial court's denial of two anti-SLAPP motions in a class action alleging a conspiracy to deny non-locals access to a public beach via threats and violence.
Writ Petition. Assisted with drafting successful opposition to writ petition on standing grounds in an action involving the Registrar of Contractors of the California Contractors State License Board.
Immigration Law. Successfully reversed the Board of Immigration Appeals and Immigration Judge's in absentia removal order by rebutting the federal government's presumption that its removal order was delivered via regular mail.
Constitutional Law. Represented a group of behavioral science and economics scholars as amici curiae in appeal addressing interplay between free speech and equal protection rights.
Government Law. Successfully represented local transportation districts in their defense against a high-stakes, multi-million dollar, class action alleging violations of state and federal due process clauses based on toll violation noticing procedures.
Hispanic National Bar Association, Chair of the Young Lawyers Division 
Leadership Council on Legal Diversity (LCLD), Pathfinder (2023)
Executive Committee of the Bar Association of San Francisco's Appellate Law Section
Bay Area Lawyers for Individual Freedom (BALIF) 
The Barristers Club of the Bar Association of San Francisco
San Francisco La Raza Lawyers Association
The National LGBT Bar Association
Lawdragon 500 X - The Next Generation, Appellate; Commercial Litigation (2023)
California Lawyers Association, Wiley W. Manuel Pro Bono Legal Services Award (2018–2022)
Super Lawyers, Appellate; Civil Litigation (2023)
 Udo v. Garland (9th Cir. 2022) 32 F.4th 1198
303 Creative LLC v. Elenis (10th Cir. 2021) 6 F.4th 1160
Jobs & Housing Coalition v. City of Oakland (2021) 73 Cal.App.5th 505
People v. Skiff (2021) 59 Cal.App.5th 571
Spencer v. Mowat (2020) 46 Cal.App.5th 1024
Judicial Apprentice to the Hon. Judge Judith L. Meyer, Los Angeles County Superior Court, Long Beach Courthouse
Judicial Extern to the District Chief Judge Jennifer Gee, U.S. Department of Labor, Office of Administrative Law Judges
"Personally Identifiable Information - Transit Agency Obligations & Risks," co-presenter, APTA 2023 Legal Affairs Seminar (April 2023)