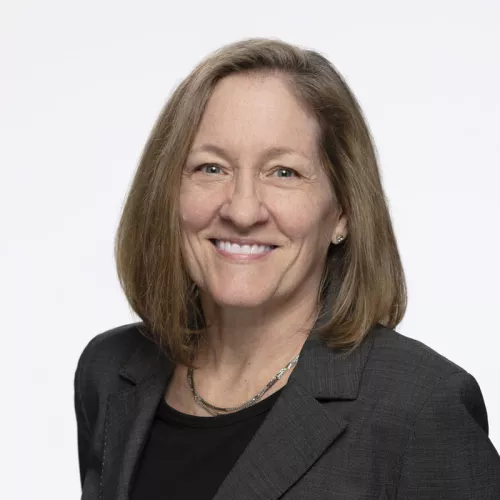 Intro
Glenda specializes in advising medical staffs, medical groups, and hospitals on a full range of credentialing, peer review, and quality assurance topics. She regularly advises medical staffs on investigations and developing corrective action plans and recommendations. She represents medical staff clients in formal hearings involving credentialing and peer review actions, and related appeals to hospital boards. And she advises clients about reporting obligations, compliance with accreditation and regulatory requirements, policy development, and bylaws revisions.
As a litigator, Glenda has represented medical staffs, medical staff leaders, and hospitals in a number civil litigation matters arising from peer review activities, involving claims of whistleblower retaliation, denial of fair procedure, intentional interference, defamation, etc. She handles all phases of litigation: discovery, law and motion practice, mediation, arbitration, administrative hearings, trials, writs, and appeals. 
Glenda frequently serves as a neutral hearing officer in peer review hearings for medical staffs across the state, and as an advisor to hospital boards in connection with appeals of judicial review committee decisions. She also serves an arbitrator in peer review matters. 
Glenda makes presentations on legal issues to gatherings of the California Association Medical Staff Services and California Society for Healthcare Attorneys.
Education
J.D.
University of California, Berkeley School of Law
( 1995 )
B.A.
summa cum laude
Rice University
( 1986 )
Admissions and Courts
California
U.S. District Court for the Northern District of California
U.S. District Court for the Central District of California
U.S. District Court for the Eastern District of California
U.S. Court of Appeals for the Ninth Circuit
Role

Medical Staff Practice Leader
Medical staffs. Represents medical staffs in peer review and fair hearing proceedings involving medical staff members challenging disciplinary actions.
Hospitals. Advises hospital governing bodies on their role in credentialing and privileging issues.
Hearing Officer/Neutral. Serves as neutral hearing officer and arbitrator in fair hearings.
California Society for Healthcare Attorneys, Board of Directors
California Society for Healthcare Attorneys, Co-Chair of Hearing Officer Committee
American Health Lawyers Association, Medical Staff, Credentialing, and Peer Review and Long Term Care and Senior Housing Practice Groups
California Association Medical Staff Services
National Association Medical Staff Services
California Society for Healthcare Attorneys
California Assisted Living Association
"Lessons Learned During the Corrective Action Process: Do's and Don'ts, and Pitfalls that Medical Staff Professionals Can Avoid," co-presenter, California Association Medical Staff Services/52nd Annual Educational Forum (June 2023)
"Developing a Late Career Physician Policy," California Association Medical Staff Services/50th Annual Educational Forum (July 2021)
"Changes to Physician Assistant Practice Agreement Requirements: What You Need to Know to Ensure Yours is Up to Date," California Association Medical Staff Services/50th Annual Educational Forum (June 2021)
"Responding to Concerns of Medical Staff Member Substance Abuse and Diversion," California Association Medical Staff Services/50th Annual Educational Forum (June, September 2021)
"Virtual Peer Review Hearings During COVID," co-speaker, California Society for Healthcare Attorneys Webinar (December 2020)
"Virtual Medical Staff Hearings in the Time of Covid," co-presenter, American Health Law Association Webinar (November 2020)
"Harassment Protecting Hospital Employees and Medical Staff," CAMSS Seminar (May 2019)
"Social Media and the Medical Staff," CAMSS Seminar (May 2019)
"Negligent Credentialing Claims," CAMSS Central Valley Chapter (November 2018)
"A Complete Guide to Credentialing and Privileging for the Medical Staff Leader and MSP," CAMSS 47th Annual Education Forum (May 2018)
"Lessons Learned from Litigating Physician Claims against Medical Staffs and Medical Staff Leaders," CAMSS Mid-Valley Chapter's Legal & Regulatory Seminar (October 2017)
"Lessons Learned from Litigating Physician Claims Against Medical Staffs and Medical Staff Leadership," CAMSS 46th Annual Education Forum (June 2017)
"Legal Update," CAMSS 45th Annual Education Forum (May 2016)
"Ways to Guard Against the Physician Whistleblower Lawsuit," co-speaker, AHLA Practice Groups Webinar (April 2016)
"Legal Update: What's New in Medical Staff Law and How to be Ready for It," co-speaker, California Association Medical Staff Services 44th Annual Education Forum (May 2015)
"The Meaning of Investigation in Peer Review Matters and Privileges, Immunities, and Pitfalls in Peer Review," co-speaker, California Association Medical Staff Services 43rd Annual Education Forum (May 2014)
"Medical Staff Bylaws: Pitfalls and Best Practices," and "Fair Hearings for the Allied Health Professional," co-speaker, California Association of Medical Staff Services (October 2013)
"A Practical Approach to Legal Issues—Aging & Re-Entry Practitioners; Court Orders, Arrests and Probation Outside the Medical Arena," co-speaker, California Association of Medical Staff Services (November 2012)
"Late Career Physicians: The Pros and Cons of Adopting a Policy Triggered by a Physician's Age," co-speaker, National Association Medical Staff Services (September 2012)
"Physician Behavior Contracts," California Association of Medical Staff Services (June 2012)
"Legal Update," California Association Medical Staff Services, 41st Annual Education Forum (May 2012)
"AB655: Understanding the New Law Affecting Responses to Credentialing Inquiries," California Association Medical Staff Services, Bay Area Chapter & Steinbeck Chapter (February 2012)
"Legal Update," California Association Medical Staff Services, Annual Educational Forum (May 2011)
"A Practical Approach to Legal Issues—Aging & Re-Entry Practitioners; Court Orders, Arrests and Probation Outside the Medical Arena," co-speaker, California Association of Medical Staff Services (November 2012)
"Late Career Physicians: The Pros and Cons of Adopting a Policy Triggered by a Physician's Age," co-speaker, National Association Medical Staff Services (September 2012)
"Physician Behavior Contracts," California Association of Medical Staff Services (June 2012)
"Case Studies In Credentialing," co-speaker, California Association Medical Staff Services, Mid-Valley Chapter (June 2012)
"Legal Update," California Association Medical Staff Services, 41st Annual Education Forum (May 2012)
"AB655: Understanding the New Law Affecting Responses to Credentialing Inquiries," California Association Medical Staff Services, Bay Area Chapter & Steinbeck Chapter (February 2012)
"Legal Update," California Association Medical Staff Services, Annual Educational Forum (May 2011)
"Credentialing and Peer Review: Legislative Update," California Association Medical Staff Services, San Gabriel Valley Chapter (December 2010); San Diego Chapter (July 2009)