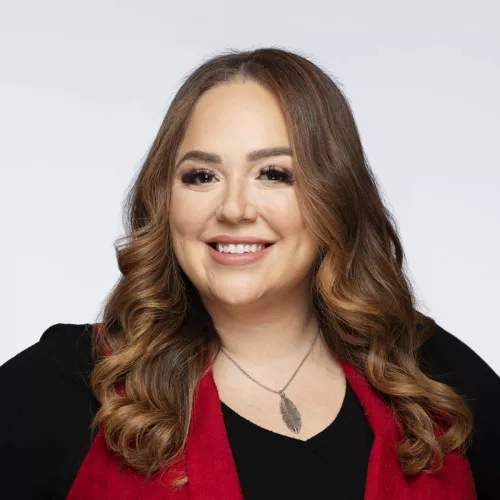 Jennifer M. Martinez
Chief Diversity, Equity and Inclusion Officer
Partner
Intro
Jennifer provides strategic, programmatic, and operational leadership for initiatives that advance diversity, equity, and inclusion as core values of the firm. She works with firm management, practice group leadership, and firm committees to advance such initiatives and leverage best practices and resources across the firm to promote cultural competency and an environment of equity and inclusion. This includes creating and implementing diversity, equity, and inclusion trainings and programming; developing and executing diversity hiring, retention, and advancement goals and policies; re-examining the firm's internal policies and practices with an eye towards rooting out unconscious bias, inequity, and microaggressions; empowering attorneys to forge new and stronger relationships with public interest organizations for increased pro bono services related to racial justice and equity; and coordinating the firm's internal and external efforts to promote diversity, equity, inclusion, and justice in the legal community and in the local communities where our attorneys and staff work and live. Jennifer has also headed our Real Action Calling for Equality (RACE) Task Force since its creation in June 2020 as part of the firm's commitment to re-evaluate and improve our investment in and commitment to justice and equity. She is also the chair of our Recruiting Committee.
As part of the firm's Labor & Employment Practice, she advises employers on a wide variety of employment issues, specializing in startups, early-stage companies, and technology companies. In addition to general advice and counseling, she handles sensitive harassment matters, whistleblower investigations, and client trainings. She also has a niche specialty advising on employment issues in mergers, acquisitions, and other corporate transactions, including employment-related diligence, definitive agreement terms, and post-transaction issues such as integration, policy compliance, employee leveling, and restructuring.
Prior to becoming the firm's Chief Diversity, Equity, and Inclusion Officer, Jennifer was a full-time partner in the firm's Labor Section, where she handled mergers and acquisitions; advice and counseling; and a large litigation practice representing public and private employers in federal and state court and before administrative agencies regarding all manner of employment claims, including single plaintiff actions, wage and hour representative and class actions, and jury trials.
Before joining us, Jennifer practiced in the employment litigation and employee mobility practices at Wilson Sonsini Goodrich & Rosati in Palo Alto.
Education
J.D.
Stanford Law School
( 2008 )
B.A.
cum laude
University of California, Los Angeles
( 2004 )
Academic Distinction
Stanford Journal of Civil Rights and Civil Liberties, Member Editor
Stanford StreetLaw, President
Stanford Latino Law Students Association, Co-President
Women of Color Action Network, Co-President
Admissions and Courts
California
U.S. District Court for the Northern District of California
U.S. District Court for the Central District of California
Role

Chief Diversity, Equity and Inclusion Officer

Women's Impact Network, Member
California Minority Counsel Program, Board of Directors
Bar Association of San Francisco, Member
San Francisco La Raza Lawyers Association, Member
USLAW NETWORK Diversity Council Member
"'Be Bold': Hanson Bridgett's DEI Chief on Why Firms Should Stand Their Ground," The Recorder (November 2023)
"'We Don't Overbook the Airplane': Why Pre-OCI Recruiting Hasn't Taken Off at Midsize Firms," ALM (September 2023)
"Diversity, Equity, Inclusion, and Accessibility Visionary," Los Angeles Times B2B Publishing (December 2022)
"Driving Change in Diversity, Equity, and Inclusion," Reinventing Professionals Podcast (August 2021)
"Takeaways From Hanson Bridgett's All-Female Summer Class," Law360 Pulse (July 2021)
"Podcast: Kristina Lawson & Jennifer Martinez of Hanson Bridgett LLP," The Registry's Real Perspectives Podcast (May 2021)
"Hanson Bridgett Found Double-Digit PEP Growth Despite RPL Decline," The Recorder (March 2021)
"Big Law is Adding to its Diversity-Focused Leadership Ranks," The American Lawyer (January 2021)
"Hanson Bridgett Names Diversity, Equity, Inclusion Officer," Daily Journal (January 2021)
"How This Calif. Firm Plans To Become More Diverse In 2021," Law360 (January 2021)
Diversity, Equity & Inclusion Champion, Corporate Counsel's Women, Influence & Power in Law awards (2023)
Most Influential Women in the Bay Area, San Francisco Business Journal (2021)
Golden Gate University Law School, La Raza Graduation, Keynote Speaker (2019)
Super Lawyers, Employment Litigation; Employment & Labor (2013–2019)
"The Do's and Don'ts of Compensation for Early-Stage Company Employees," The Entrepreneurs Report (Fall 2008)
"Latino Realities and the Internal Revenue Code: A Critical Perspective," University of Florida Judicial Law and Public Policy (2011)
"Diversity, Equity, And Inclusion In The Workplace: How Can Emphasizing DEI Benefit Employers?," CALPELRA Annual Training Conference (November 2023)
"Eyes Wide Shut: Seeing Past Unconscious Bias," Hanson Bridgett MCLE Marathon (January 2022)
"Overcoming Ally Pitfalls: Addressing Microaggressions and Bias From Allies," CMCP 2021 Annual Business Conference (September 2021)
"Women's Equality Today," 50/50 Leadership's Women's Equality Summit 2021 (August 2021)
"The Science of Legal Diversity: From Theory to Reality," The Hispanic National Bar Associations' Insider Series (July 2021)
"The Resilient Mind—Identifying and Overcoming Burnout," CMCP Women of Color Conference (May 2021)
"Back to Work: The Top 5 Issues Employers Should Know for Re-Opening the Workplace," Bay Area Black Owned Business Directory Webinar (August 2020)
"Startup 101: Legal Basics for Founders," #HowSheWorks Webinar (August 2020)
"Business is Disrupted: Getting Ahead of Privacy Issues," Hanson Bridgett Business Disruption Strategies Webinar (April 2020)
"A Ban, An Injunction, Preemption, Oh My!," Hanson Bridgett 2020 Labor & Employment Seminar (January 2020)
"When, If Ever, Are Non-Compete and Non-Solicitation Agreements Effective?," USLAW Retail & Hospitality Law Exchange (October 2019)
"California Disability Law Refresher and Recent Case Trends," 14th Annual Alameda County Disability Employment Awareness Conference and Training (October 2019)
"Toxic Personalities and Workplace Conflicts: Effective and Legal Ways to Manage Tough Interpersonal Situations and Build a Culture of Cooperation," Business And Legal Resources, Inc.'s Annual National Employment Law Conference, HRComply 2019 (September 2019)
"Wage and Hour Questions: A Practical Legal Guide," ATA Trucking Legal Forum (July 2019)
"The Fate of Independent Contractors," Transportation Lawyers Association 2019 Annual Conference (May 2019)
Keynote Speaker, La Raza Graduation, Golden Gate University Law School (May 2019)
"Beware of Whistleblower and Retaliation Complaints – Statutory Requirements, Protecting Anonymity, and Case Studies", 2019 CalGovHR Conference & Expo (March 2019)
"Learn What it Takes to Excel as a Junior Associate," Real Talk Boot Camp (December 2018)
"Sexual Harassment in the #MeToo Era: Cultural Changes, Pre-Claim Best Practices, Training, Workplace Investigations, Arbitration Clauses, Individual Defendants, Tax Implications," Association of Defense Counsel of Northern California and Nevada, Employment Law Seminar (June 2018)
"Steps in the Grievance Process – The Importance of Asserting and Maintaining The Employer's Defenses in Every Step," Northern California Chapter of the International Public Management Association - Human Resources (March 2018) 
"Proactive Strategies for Coping with Workplace Class Action Claims Before Litigation," Hanson Bridgett Labor & Employment Seminar (January 2018)
"Regulatory, Legal, & Government Affairs Impact on the Home Delivery Industry," Annual Meeting of the National Home Delivery Associations (August 2017)
"Employment Law and Human Resources Issues," AAPA Port Administration and Legal Issues Seminar (March 2017)
"Whistleblowing and Retaliation Claims - What are they Really About?," NCCIPMA-HR Annual Chapter Conference (March 2017)
"Special District Executive Recruitment, Evaluation, and Compensation," California Special Districts Association Annual Conference (October 2016)
"Use and Misuse of Social Media in the Workplace," National Bar Association's Labor and Employment Section Annual Conference (October 2016)
"NLRB Aggressively Driving Its Agenda: Trials, Tribulations & Legal Responses," ATA Litigation Center's Forum for Motor Carrier General Counsel (July 2016)
"A Day in the Life of a Defense-Side Employment Practitioner," UC Hastings (March & October 2016)
"Meal Breaks and CA Sick Leave," Golden Gate Restaurant Association Webinar (June 2015)