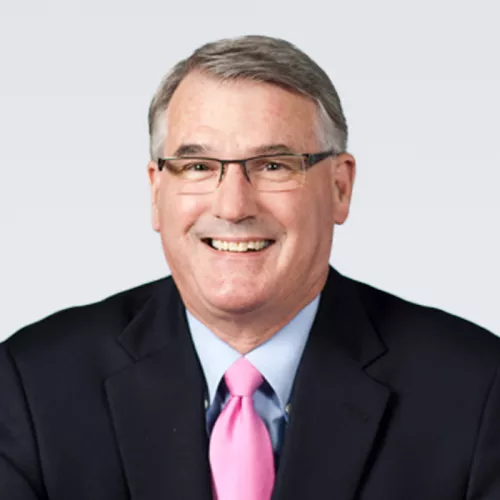 Intro
Bill maintains transactional and litigation business practices representing both public and private ventures.
Bill's transactional practice includes M&A advice and counsel for both domestic and international deals, corporate reorganizations and other strategic business plans.
Bill has significant experience in all aspects of the transportation industry throughout the U.S. and global markets. He is well-versed in all areas of domestic and international logistics law and policy. He has a keen understanding of the intricate multi-party contractual arrangements and business relationships central to the movement of products in intrastate, interstate and foreign commerce, including the sale or purchase of companies in or out of this market. Bill regularly consults with and defends clients regarding co-employer or misclassification claims related to independent contractor relationships in this industry. 
Whether in transportation or any other enterprise, Bill has represented private and publicly-traded corporate clients in asset and equity-based mergers and acquisitions, restructurings, successorship planning, complex contract strategies and negotiations. He provides day-to-day counseling and assists business clients with internal and external legal requirements, including regulatory compliance matters before local, state and federal administrative agencies. He regularly represents clients in hearings before administrative agencies with jurisdiction over enforcement and compliance issues, including the California's PUC, DMV, and CHP, and CARB, as well as the U.S. DOT, FMCSA and other federal agencies, including defensive structural options in order to minimize exposure to such actions. 
Bill is frequently called upon to address industry associations regarding contract issues and related litigation strategies.
Bill is a past president of the Transportation Lawyers Association and the founder of Hanson Bridgett's Transportation and Logistics Practice Group. He served as President of Globalaw LTD (2012-2014), an international legal network of firms located throughout the world. Hanson Bridgett is the Northern California representative of Globalaw.
Areas of Focus
Education
J.D.
University of California, Hastings College of the Law
( 1971 )
A.B.
California State University, Chico
( 1968 )
Admissions and Courts
California
U.S. Court of Appeals for the Second Circuit
U.S. Court of Appeals for the Fifth Circuit
U.S. Court of Appeals for the Ninth Circuit
U.S. District Court for the Northern District of California
U.S. District Court for the Central District of California
U.S. District Court for the Eastern District of California
U.S. District Court for the Southern District of California
U.S. District Court for the District of Columbia
Role

Transportation & Logistics Practice Leader
Business formation strategies and implementation of founder's business plans and goals.
Shareholder disputes and resolution of associated business conflicts.
Managing stock and/or asset transfers from origin to closing.
Providing advice and counsel to both emerging and mature companies regarding the legal consequences and implications of internal and external management initiatives for safety and hazardous materials violations.
Administrative agency proceedings at all levels with a focus on regulatory permitting and compliance.
Defend complex independent contractor misclassification cases at regulatory, litigation and appellate levels.
Globalaw LTD, former President, Board of Directors
The Sutter Club, Board of Directors, former Member
Sacramento County Bar Association, Member
Bar Association of San Francisco, Member
Transportation Lawyers Association, Executive Committee Member, and former President
American Trucking Association, Forum for Motor Carrier General Counsel
Conference of Public Utilities Counsel, Conference of Freight Counsel Member
Association for Transportation Law, Logistics and Policy, Member
American Bar Association, Transportation and Insurance Practice, Member
Trucking Industry Defense Association, Member
Schwartz/Levi Inn of Court (U.C. Davis, King Hall); Executive Committee, Master Attorney
San Jose State University, Graduate School of Business and Management, Associate Professor (1998-2012)
Law360's 2021 Transportation Editorial Advisory Board, Member
Certified AAA Mediator and Arbitrator
Best Lawyers in America©, Transportation Law (2018-2023)
Lawyers of Distinction, Excellence in the Practice of Law (2021)
Lawyer International's Legal 100, Transportation & Logistics Law Firm of the Year Contact (2021)
Martindale-Hubbell, AV Preeminent for Peer and Judiciary (1988-2023)
Super Lawyers, Transportation Law (2004, 2006, 2012-2019, 2021-2022)
The American Registry - Most Honored Lawyers (2022)
American Lawyer Media, Top Rated Lawyer in Northern California (2019)
Sacramento Magazine, Top Lawyer (2016, 2019)
Sacramento Business Journal, Best of the Bar (2014-2019)
The American Lawyer and Corporate Counsel, Top Rated Lawyer in Transportation Law (2014)
Transportation Lawyers Association, Lifetime Achievement Award (2006)
Transportation Lawyers Association, Distinguished Service Award (1995)
"California's Proposition 22: It Passed, Now What?" The Transportation Lawyer (February 2021)
"Back to the Future," moderator, Transportation Lawyers Association, Chicago Regional Seminar and Boot Camp (January 2023)
"Is Ignorance Really Bliss? Not When It Comes to Compliance with the Extensive Regulations of the California Air Resources Board (CARB)," ATA Litigation Center Trucking Legal Forum (July 2022) 
"The Scope of and Addressing Issues Related to the Disruptions in the Supply Chain Due to COVID and Related Capacity Conditions," ATA Law Review Webinar (September 2021)
"Who Wins: A Debate on Developments and Challenges of Trucking Contracts," ATA Litigation Center Trucking Legal Forum (July 2021)
"The Crystal Ball – Transportation and Logistics After COVID," Transportation and Logistics Counsel Seminar (February 2021)
Transportation Lawyers Association, Chicago Regional Seminar and Boot Camp (January 2021)
"Impact of Commercial Drones on the Freight Broker Industry," Transportation Law Institute (November 2018)
"Drafting Transportation Contracts: Negotiating Key Terms in Shipper, Carrier, and Broker Agreements," Strafford Publications Webinar (October 2018)
USLAW Transportation Industry Summer Legal Forum (September 2018)
"The Evolutionary Foundation Supporting and Nurturing the Development of Contract Relationships in Motor Transportation: The Short Version of a Long History," 50th Anniversary of The Transportation Law Institute (November 2017)
"Put It In Writing! Current Strategies in Drafting & Enforcing Transportation Contracts," American Trucking Associations Forum for Motor Carrier General Counsel (July 2017)
"The Transportation Industry in the Trump Era," Supply Chain Cargo & Security Summit (June 2017)
"The Development and Use of the Autonomous Truck," USLAW 2017 Spring Client Conference (April 2017)
"California Legislature Passes Bill that Will Permit Shippers to Be Held Jointly Liable for State Labor and Employment Law Violations by Port Trucking Companies," The Transportation Lawyer (December 2018)
"Defusing the Misclassification Risk: The Broker Model What it is and How it Works," The Transportation Lawyer (October 2018)
"California Legislature Passes Bill That Will Permit Shippers To Be Held Jointly Liable For State Labor And Employment Law Violations By Port Trucking Companies" Transportation Law Alert (September 2018)