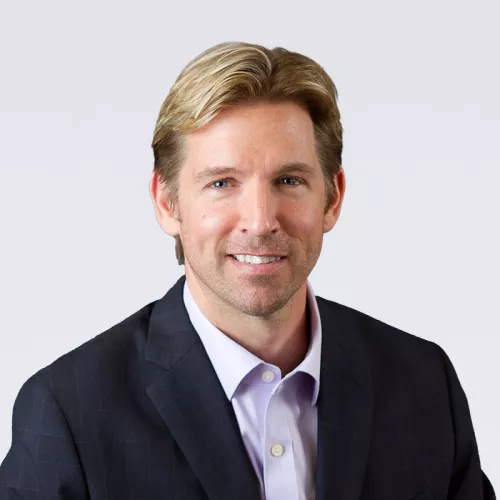 Intro
Derek's clients look to him for advice in all aspects of real estate, business and construction transactions.

Real Estate. Derek advises in-house corporate counsel, corporate real estate executives and principals in domestic and international real estate transactions. He has significant experience in the acquisition, development and leasing of health and senior care, office, retail, R&D, laboratory, clean-tech, manufacturing and data center assets. As a LEED® Accredited Professional, he places a particular emphasis on sustainability, including sustainable building and design, "green" leasing and renewable energy. He has facilitated the closing of real estate transactions with an aggregate value of more than $900 million, and leasing of more than ten million square feet of space throughout the United States and internationally. Derek serves as his client's primary contact at the firm for interfacing on regulatory compliance, risk management, licensure and land use and environmental issues.

Business. In conjunction with Derek's real estate work, Derek negotiates and documents joint venture transactions, real estate syndicates, limited partnerships and other real estate holding vehicles for the development and operation of real estate assets and communities. He also counsels his clients regarding a wide-variety of business matters, including business structuring, operation and management arrangements, covenants, conditions and restrictions, licensing and reciprocal use, and cost sharing arrangements. Derek also advises his clients regarding unsecured and secured equity and debt offerings, including bridge and credit financings.

Construction. Over the last decade, Derek has structured and negotiated construction-related agreements for office (ground-up and TIs), health and senior care, biopharmaceutical, laboratory, clean-tech and manufacturing facilities with an aggregate construction value of more than $1.5 billion.

General Counsel. Derek also serves as general counsel to corporations, including charitable organizations, in a wide variety of corporate and commercial transactions.
Education
J.D.
University of San Francisco School of Law
( 1997 )
B.A.
Loyola Marymount University
( 1994 )
Role

Health Care Real Estate Practice Leader
Development of a $168 million, 250,000 square foot San Francisco medical office building under an airspace lease, and construction of an underground parking garage and pedestrian tunnel
Development of a new, state-of-the-art, $284 million hospital in the North Bay, and ground lease for an 80,000 square foot medical office building
Sale and leaseback/exchange of $56 million in real property assets on the Peninsula
Ground leasing and leaseback of multi-story medical office buildings in Tracy and Roseville, and construction of associated parking structures and reciprocal parking arrangements
Disposition of a $225 million, 65-acre parcel in Silicon Valley, consisting of 966,087 square feet of healthcare related assets
Real estate syndications for single and mixed use facilities in California, Oregon, Washington, Colorado, Texas, and Florida valuing over $250 million
Hundreds of office and retail leases totaling over ten million square feet
Development and documentation of master planned communities throughout Northern California, including BRE processing
Numerous leasing transactions involving hospital systems, medical foundations, physician groups and senior care facilities
Northern California Chapter of CoreNet Global, Advisory Board member
U.S. Green Building Council LEED® Accredited Professional
"Avoiding Compliance Pitfalls in Leased Medical Buildings, Whether You're Tenant or Owner" presenter, California Hospital Outpatient Facilities Summit (December 2018)
"Evolution of the Healthcare Real Estate Lease: What are the Ramifications of the Affordable Care Act on Leasing, and How Have Terms Changed?" moderator, The Northern California Healthcare Real Estate Summit (March 2015)
"The New Health Care Environment," co-speaker, The Registry (October 2013)
"Avoiding Incorporation, Formation & Compensation, Landmines & Pitfalls"  Keiretsu Forum Entrepreneur Academy (December and August 2012)